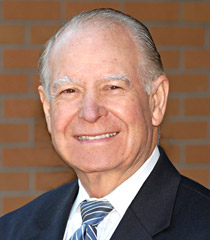 Cruz Reynoso is a professor emeritus at the University of California at Davis, and was an Associate Justice of the Supreme Court of California from 1982 to 1987, and an Associate Justice of the California Court of Appeal from 1976 to 1982.  From 1969 to 1972, he was the Director of the California Rural Legal Assistance Foundation.  In 2000 he was awarded the Presidential Medal of Freedom.  His lifetime of dedication to civil rights has been recognized across the country.  We are very honored to have him of counsel.
Reynoso was the inaugural holder of UCD's Boochever and Bird Chair for the Study and Teaching of Freedom and Equality, which recognizes outstanding scholarship and teaching, along with a commitment to preserving and expanding the understanding of "the virtues necessary of a great republic."
His special interests are in the areas of professional responsibility, civil rights, appellate advocacy, constitutional law, and remedies.
Selected Publications
Cruz Reynoso, Diversity in Legal Education: A Broader View, A Deeper Commitment, 52 J. OF LEGAL EDUC. 491 (2002)

Cruz Reynoso, Brief Remembrances: My Appointment and Service on the California Court of Appeal and Supreme Court, 1976-1987, 13 BERKELEY LA RAZA L.J. 15 (2002)
Cruz Reynoso, The Role of Assets in Assuring Equity: Altheimer Symposium on Racial Equality in the 21st Century, (Keynote Speaker), 21 University of Arkansas, Little Rock Law Review 743-57 (1999)
Education
 A.B., Pomona College 1953
LL.B., UC Berkeley 1958